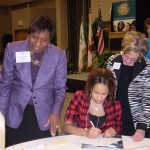 In an era of rapid change, the ability for an organization to demonstrate resilience is critical. Over the past five years, mentoring has become an initiative driven word in the business environment. There are many reasons the word comes to mind, but the most significant today is the fact that good organizations are expected to thrive in the midst of rapid changes and an ever increasing competitive environment. Coupled with this is the ongoing challenge associated with diversity.
A common theme of inclusion is that each employee deserves the opportunity to make a contribution, representative of their talents and potential. Customers deserve the best of the best in performance at all times. Finally, to survive at the top, a great business must consistently present a theme of innovation and individual excellence in the face of their competitors at all times.
How does the CEO preserve the future of its organization without losing its focus on current challenges? Fortune 500 Corporations have figured it out and have become role modes for smaller business owners. Mentoring and Coaching programs are becoming intricately engrained in leadership development programs across the nation. While these programs require time and take associates away from the workplace, the added value to the organization far exceeds the investment.
Services:
Coaching Solutions facilitates a confi­dential supportive environment that encourages clients to identify and engage behaviors that will energize their daily rhythms of life.
We help our clients to stay focused on those activities that have significant impact on bottom line results, dreams, vision and those core values that drive the culture of the organization.
Thought to Ponder: Success should not be lost in your dreams, success should be a part of your current realities.
Career Strategy
Every individual has a unique "spark of greatness". This spark gives hope to individuals who feel stuck in their careers or unfortunately, downsized. We offer resume support, mock interviews, and job transition coaching. We also help leaders to fi­nd the right professional development formula for associates.
We offer personal and career assessments. In addition, we provide non-judgmental feedback, coupled with supportive developmental plans to enhance performance. We ensure that our clients are in touch with themselves, their potential, and positioned to maximize their potential.
Work-Life Balance
Busy professionals often fi­nd themselves torn between family, life issues and their professional commitments. We find the magic formula that enables busy people to make the best choice at the right time.
We help businesses to support their employees. We provide individual assistance relative to the identification of key values, life purpose and balance between career and personal life. When employees experience balance in their lives, they are more likely to perform better at work. This in turn enhances the company's image, profitability and loyalty within the employee ranks.
Workshop Design and Facilitation
Our passion is creative excellence. Tell us what you need and we will design it. We do group workshops, team building exercises and business retreats.
Motivational Speaking
We offer customized speeches that reinforce the direction of your organization. We offer this service to corporations, small businesses and not-for-profit organizations.
Our Commitment
Integrity is number one. You can trust us to assist you in meeting those challenges that impede your daily eff‑orts and keep you awake at night. Your needs reinforce the very reasons that we exist.
Exceptional Leadership experience at your service. Less about theory…more about reality.
Call Barbara Tolliver-Haskins today at (904) 371-3024
FREE REPORT: 25 Ways to Maximize Your Potential and Join Our Quarterly "Smart Business Matters" Newsletter